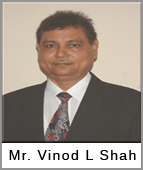 Statement of Managing Director
India is a country, Rich in material resources as well asintellectual and human skills. The business acumen of its entrepreneurs is literally dreaded even in the most advanced countries. Be it super computers or detergents, the ventures of Indian entrepreneurs have not only successfully taken on the might of most powerful multinationals but also created success stories that are discussed and debated in the international fora of business academies.
The success stories of Indians settled in the most advanced countries like U.K. and U.S.A. arouse awe and envy amongst the local business communities.
Similarly the knowledge and expertise of Indian scientists and technocrats has not only made a name in the international arena but has virtually made the advanced countries sit-up and take a serious note of the potentials and capacities of indian scientists and technocrats.
Once upon a time European and devel0ped countries' people have an elargy for Indian goods, but now we have successfully proved' that east or west India is the best. People are accepting the brand "made in India" globally.
The main focus of this brochure is the activities of "Mahavir Expochem Limited" in the field of metal finishing chemicals. To drive, a desire to win , an unbeatable ambition and a will to succeed adding that Mahavir's contribution is to electroplating – metal finishing trade as Sachin Tendulkar's is to cricket. "Mahavir" is proud of long history in this particular field and its success both in past and at present, covering a span of 41 years by beginning as a local distributor for plating chemicals of a leader 'grauer and weil (India) ltd" (1971 to 1982) and platelet processes and chemicals (1982 to1989). "Mahavir" has a blazing trial to establish own manufacturing unit and self sufficiency by sheer involvement and constant, superior R & D Activities In 1994 "Mahavir" presented a superb range of Mahanol series of import substitute chemicals, intermediate chemicals for brighteners, and inspired the leader for that ignored direction which saved a very precious foreign exchange for our beloved nation when it passes through a great exchange crises, it is a proud full matter for us. My friend Mr. More should thank us for this indication by remembering the meeting of ours in Baroda Exhibition. Today, "Mahavir" is the largest user of nickel metal in the electroplating trade. Our success is backed by our employees, distributors and valued customers. We dedicate our selves to provide upgraded quality products, constant Endeavour to innovations by R & D, incorporation of latest technology and back up of efficient services to the nation and to our customers by offering a tailor made products to suit their requirements with the aim to educate them how to select the right product at right price without compromising the quality – the essence of our trade as no one sacrifices for any one.