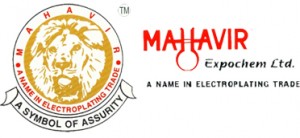 BRILLIANT CYN ZINC BRIGHTNER – 265/275
 BRIGHT ZINC PROCESS
BRILLIANT CYN ZINC BRIGHTNER 265 IS A SINGLE BRIGHTNER, SPECIALLY FORMULATED WITH BRIGHT ZINC PLATING PROCESS FOR VAT AND BARREL TO PROVIDE   BRILLIANT,  UNIFORM,HIGHLY  CORROSION   RESISTANT   AND PLEASING  BLUSH-WHITE ZINC DEPOSITES FROM A WIDE RANGE  OF  HIGH, MEDIUM AND LOW CYNIDE ZINC PLATING BATH FORMULATIONS. THIS SINGLE BRIGHTNER SYSTEM SHOWS GOOD STEBILITY DURING WORKING AT  ELEVATED TEMPERATURES AND IT IS SIMPLE TO OPERATE AND CONTROL.
SALIENT FEATURES
*    IT CAN BE USED IN BATHS WITH TEMPERATURE RANGING FROM 25  TO
55  *C  IN BOTH VAT AND BARREL PLATING OPERATIONS  AND  THIS
MINIMISES COOLING REQUIREMENTS.
*    PRODUCES     BRILLIANT,LUSTROUS,UNIFORM,HIGHLY     CORROSION
RESISTANT,CHROME-LIKE ZINC DEPOSITS.
*    THE BRIGHTNER 265 IS A CONCENTRATED FORMULATION WITH  STABLE
ADDITIVES AND HAS GOT MINIMUM CONSUMPTION OF 80-1120 ML. AND
120-150  ML.  PER  100 AMP.-HR. IN  VAT  AND  BARRL  PLATING
OPERATION RESPECTIVELY.
*    THE BRIGHTNER SYSTEM HAS EXTREME VERSATITLITY AND IS  HIGHLY
EFFECTIVE IN CONVENTIONAL HIGH CYNIDE AS WELL AS MEDIUM  AND
LOW CYNIDE BATH PLATING OPERATIONS.
*    ZINC DEPOSITES, PRODUCED FROM THE SYSTEM, READILY ACCEPT AND
CONVENTIONAL  CHROMATE  PASSIVATION  TREATMENT  FROM   BLUE,
GOLDEN,OLIVE  GREEN  OR  BLACK  CHROMATE  PASSIVATION.   SEE
ZINCHROMATE   161,  162L,  164  AND  171   FOR   PASSIVATION
TREATMENTS.
BATH MAKE UP :
THE BRIGHTNER-265   PRODUCES AN ACCEPTABLE FINISH FROM A WIDE RANGE OF  BATH COMPOSITIONS. IT IS ADVISABLE TO MAINTAIN THE ZINC  BATH WITHIN  RECOMMENDED LIMITS   IN   ORDER TO   MINIMISE   CONSUMPTIONS.  IT IS  ADVISABLE TO MAINTAIN THE ZINC   BATH    WITHIN     RECOMMENDED     BATH    MAKE    UP,   OPERATING CONDITIONS,MAINTANCE OF BATH CONSTITUENTS ARE GIVEN AS UNDER :
BATH MAKE UP :                LOW                   HIGH   MEDIUM                                                                            
CYN ZINC SALT-201/211/221             GM/LIT.               200   110+10      100
BRILLIANT CYN ZINC BRIGHTNER-265/275  ML/LIT. 2-4     2-4         2-4
CYN ZINC PURIFIER-203 (L)             ML/LIT.                   2          2           2
WORKING CO               HIGH        MEDIUM        LOW
DENSITY *BE                                                             18-24         8-12        7-11
TEMPERATURE *C                                                    25-55        25-55       25-55
CATHODE CURRENT DENSITY:
VAT AMP/SQ.DM                                                          2-6          2-6         2-6
BARREL AMP/SQ.DM                                                0.5-2        0.5-2       0.5-2
VOLTAGE – VAT                                                           2-6          2-6         2-6
VOLTAGE – BARREL                                                 10-15        10-15       10-15
FILTRATION                   OCCASIONALLY  OCCASIONALLY  OCCASIONALLY
AGITATION – VAT                CATHODE       CATHODE       CATHODE
MOVEMENT      MOVEMENT      MOVEMENT
FUME EXTRACTION        RECOMMENDED   RECOMMENDED   RECOMMENDED
RATE OF DEPOSITION AT        0.4 MICRON    0.35 MICRON   0.35 MICRON
2 AMP/SQ.DM.PER MINUTE
MAINTENANCE
ZINC METAL           GM/LIT.                      32 + 4        20 + 5       10 + 5
TOTAL SODIUM CYANIDE GM/LIT.       90 + 15     50 + 15      15 + 5
TOTAL CAUSTIC SODA   GM/LIT.           72 + 12      70 + 10      75 + 10
RATIO CYANIDE:METAL                          2.82:1.0      2.5:1.0      1.5:1.0