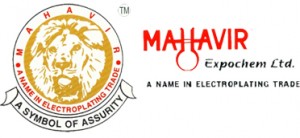 ZINCHROMATE BLACK 163
A  BRIGHT  BLACK  CONVERSION COATING PROCESS FOR  ZINC  AND  ZINC PLATED PARTS.
ZINCHROMATE BLACK-163 PROCESS IS SPECIALLY DESIGNED FOR PRODUCING A BRIGHT LUSTROUS JET-BLACK CHROMATE CONVERSION COATING ON  ZINC, ZINC DIE CASTINGS AND ZINC PLATED COMPONENTS. THE PROCESS CAN  BE USED AFTER ALKALINE CYANIDE, NON-CYANIDE, AND ACID CHLORIDE  ZINC PLATING WITH A MINIMUM OF 5-7 MICRON THICK ZINC DEPOSITS.THE  COATING PRODUCED BY THE PROCESS AFFORD  HIGH  CORROSION  AND ABRASION  RESISTANCE WITH FREE FROM STAINS AND FINGER  PRINTS. IT WITHSTAND IN EXCESS OF 80 HOURS OF STANDARD SALT SPRAY  SOLUTION WITHOUT WHITE CORROSION, AND PROVIDES CONSIDERABLE LUBRICITY.
ZINCHROMATE   BLACK-163   PROCESS  IS   CONSISTED OF TWO   LIQUID COMPONENTS  FOR BATH MAKE UP AND MAINTENANCE. THEY ARE  SIMPLE TO USE, HAVE LONG LIFE AND REQUIRE ONLY ROUTINE MAINTENANCE.
OPERATING CONDITIONS :
ZINCHROMATE BLACK-163 A       –         100 ML/LITRE
ZINCHROMATE BLACK-163 B       –         100 ML/LITRE
TEMPERATURE                              –         ROOM
TIME                                                 –         0.5 – 3.0 MINUTES
pH (ELECTROMETRIC)                   –         0.8 – 1.8
EQUIPMENT :
HDPE, PP OR PVC  TANKS  CAN  BE  USED FOR  ZINCHROMATE  BLACK-163 PROCESS.
SOLUTION MAKE-UP :
1)   FILL  THE  CLEAN  TANK WITH 2/3 FULL OF WARM (50-70 C)
CHLORIDE FREE DEIONIZED WATER.
2)   ADD REQUIRED QUANTITY OF ZINCHROMATE BLACK-163 A AND STIR TO
ENSURE THOROUGH MIXING.
3)   ADD  REQUIRED  QUANTITY   OF  BLACK-163  B  SOLUTION   WHILE
CONSTANTLY STIRRING.
4)   ADD  WATER  TO  FINAL VOLUME  AND  STIR  OPERATING  SOLUTION
THOROUGHLY FOR AT LEAST 5 MINUTES.
5)   ALLOW SOLUTION TO COOL TO ROOM TEMPERATURE.
7)   CHECK pH OF THE BATH SOLUTION, IT SHOULD BE 0.8 TO 1.8  WITH
AN OPTIMUM pH BEING 1.15.IF  REQUIRED, IT CAN BE LOWERED  BY
USING 50 % TECHNICAL GRADE SULFURIC ACID OR RAISED BY  USING
25 % SODIUM HYDROXIDE SOLUTION.
PROCESS SEQUENCE :
1.   ZINC PLATING WITH MINIMUM 5 MICRON THICKNESS.
2.   COLD WATER RINSE.
3.   DEIONIZED WATER RINSE.
4.   ZINCHROMATE BLACK-163 PROCESS.
5.   DEIONIZED WATER RINSE.
6.   DRY.
MAINTENANCE :
REPLENISHMENT ADDITIONS OF ZINCHROMATE BLACK-163 A AND 163 B  ARE EVIDENCED BY CHANGE IN COLOUR OF THE PROCESSED PARTS OR BY LONGER IMMERSION  TIME  REQUIRED TO PRODUCE ACCEPTABLE  COLOUR.  REGULAR ADDITIONS OF 163 A AND 163 B SHOULD BE MADE ON VISUAL OBSERVATION OF PARTS BEING PROCESSED, BY pH CONTROL OR BY ADOPTING ANALYTICALMEASURES.
ANALYTICAL CONTROL :
1    ML PIPETTE
25   ML MEASURING CYLINDER
50   ML BURETTE
250  ML ERLENMEYER FLASK.
PROCEDURE :
1.   PIPETTE A 1 ML SAMPLE OF THE OPERATING SOLUTION INTO A  250
ML ERLENMEYER FLASK.
2.   ADD 15 ML CONC. HCL AND DILUTE TO 100 ML WITH WATER.
3.   ADD 2 GM. OF POTASSIUM IODIDE AND MIX TO DISSOLVE.
4.   TITRATE WITH 0.1 N SODIUM THIOSULPHATE SOLUTION TO A  LIGHT
YELLOW COLOUR, ADD 2 ML STARCH SOLUTION AND  CONTINUE   THE
TITRATION UNTIL BLUE BLACK COLOUR DISAPPEARS.
CALCULATION :
MLOF 0.1 N SODIUM THIOSULPHATE USED X 10 = ML/LIT. OF 163 A AND/
OR 163 B
WASTE TREATMENT :
ZINCHROMATE  BLACK-163  PROCESS SOLUTION ARE ACIDIC  AND  CONTAI. HEXAVALENT CHROMIUM. SODIUM BISULPHITE, SULFUR DIOXIDE OR FERROUS SULPHATE  ARE  USUALLY  USED  FOR CHROME REDUCTION  BELOW  2.5 pH  FOLLOWED  BY NEUTRALIZATION TO pH 8 USING ALKALI AND SETTLING  OF SOLIDS IS REQUIRED BEFORE DISCHARGING TO SEWAGE.