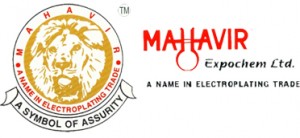 Product Specification
STRIPPING SALT" 1001
STRIPPING  SALT  1001  IS  A  POWDERED  PRODUCT MIXED WITH  DISULPHURIC ACID USED FOR RAPID STRIPPING OF NICKEL FROM   COPPER BASE ALLOYS.STRIPPING SALT 1001 ACID MIXTURES ARE NOT  SUITABLEFOR STRIPPING NICKEL FROM ZINC BASE,ALUMINIUM AND  IRON ALLOYS.THE  ABOVE  ACID MIXTURE  CHEMICALLY  DISSOLVES  NICKEL  AND NO ELECTRIC CURRENT IS REQUIRED.
 COMPOSITION
STRIPPING SALT 1001                              …     …  125-150 G/L
CON.SULPHURIC ACID (SP.GR) (1.84)  …     …   55-ML
WATER                              …     …  TO MAKE 1 LIT.
PREPARATION
FILL  3/4 OF THE TANK WITH WATER AND ADD SLOWLY  THE   REQUIRED VOLUME OF SULPHURIC ACID WITH INTERMITTENT STIRRING.  THEN  ADD THE  CALCUTATE AMOUNT  OF STRIPPING SALT  1001   POWDER  WITH STIRRING AND MAKE UP THE LEVEL BY ADDING MORE WATER.
STRIPPING RATE
THE STRIPPING RATE VARIES WITH THE TEMPERATURE OF THE SOLUTION, THE  CONCENTRATION OF ACID, THE  CONCENTRAION OF STRIPPING SALT 1001  AND  THE  AGE OF  THE  STRIPPING  SOLUTION. THE  RATE  OF STRIPPING FOR A NEW SOLUTION IS AS FOLLOWS:
TEMPERATURE              RATE OF DISSOLUTIO
70-80*C                      0.005″-0.006″ PER HOUR.
THE RECOMMENDED TEMPERATURE RANGE FOR STRIPPING IS FROM 75-90*C COPPER IS NOT ATTACKED BY THE STRIPPING SOLUTION,BUT  BRASS AND NICKEL,SILVER  ARE  SLIGHTLY  ATTACKED  AT  HIGHER TEMPERATURE. THE MAXIMUM OPERATING TEMPERATURE FOR BRASS IS NORMALLY 80*C.
OPERATION
THE WORK TO BE STRIPPED,IF GREASY OR OILY,SHOULD BE CLEANED  IN OR ALKALINE SOAK CLEANER,SO THAT  THE  STRIPPING SOLUTION  WILL WET IT UNIFORMLY.
THE  ARTICLES  TO  BE  STRIPPED ARE  SIMPLY  IMMERESED  IN  THE STRIPPING SOLUTION AND  AFTER STRIPPING COMPLETES,THE  ARTICLES     TURN  DARK  AND  THIS  CAN BE REMOVED BY IMMERSING  IN  20  G/L     SODIUM   CYANIDE  SOLUTION. BEFORE  DIPPING  IN   THE   CYANIDE     SOLUTION,THE  WORK  SHOULD BE  RINSED THOROUGHLY  WITH  RUNNING     WATER.THE STRPPING RATE CAN BE  ACCELERATED BY AGITATION OF THE    WORK IN THE SOLUTION OR AGITATION BY AIR OR MECHANICAL.
EQUIPMENT
THE TANK FOR HOLDING STRIPPING SALT 1001 SOLUTION MAY   BE LEAD      OR  PLASTIC LINED MILD STEEL AND FOR  HEATING  STAINLESS  STEEL    ELECTRIC IMMERSION HEATERS CAN BE USED.
MAINTENANCE
BY  WORKING ACID AND STRIPPING SALT ARE CONSUMED AND   PERIODIC ADDITONS OF  STRIPPING SALT 1001 (20  TO 40 G/L)  WILL MAINTAIN     THE  STRIPPING  RATE. ACID  CONCENTRATION CAN BE MAINTAINED  BY     TITRATION.THE  SLUDGE  DEPOSITED IN THE TANK SHOULD BE  REMOVED      PERIODICALLY IN ORDER TO INCREASE THE LIFE OF THE SOLUTION.
NOTE:-
OUR RECOMMENDATIONS ARE MADE IN GOOD FAITH AND ARE BASED     ON  OUR SKILL AND EXPERIENCE.HOWEVER,SINCE THE CONDITONS  OF USE  OF THESE  PRODUCTS  ARE BEYOND OUR CONTROL,THIS       INFORMATION  IS  GIVEN  ON  THE  EXPRESS  CONDITION  AND     AGREEMENT THAT MAHAVIR EXPOCHEM LTD.  WILL NOT BE LIABLE     TO ANY PERSON BY REASON THEREOF NOTHING  HEREIN SHALL BE      DEEMED TO BE  A  RECOMMENDATION  TO  USE  ANY PRODUCT IN      VIOLATION  OF ANY EXISTING PATENT RIGHTS.