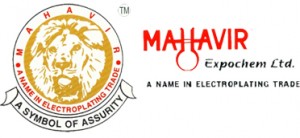 Product Specification
ALZINCATE MD" 632
PRETREATMENT ZINCATING PROCESS PRIOR TO PLATING ON ALLUMINIUM
ALZINCATE MD-632 IS SUPPLIED AS READY TO USE SOLUTION.IT PRODUCES
THIN  ADHERENT  ZINC FILM ON ALLUMINIUM  AND  ALLUMINIUM  ALLOYS,
WHICH MAY BE PLATED DIRECTLY WITH CYANIDE COPPER, NICKEL, BRASS,
SILVER,  TIN,   ZINC,  CADMIUM  OR  CHROMIUM.   UNDER  COAT  OF  COPPER
STRIKE FROM A CYANIDE BATH IS ADVISABLE PRIOR TO FURTHER  PLATING
FROM OTHER BATHS.
PROCESS SEQUENCE :
BY  ADOPTING  THE  FOLLOWING PROCESS CYCLE,  ALLUMINIUM  AND  ITS
ALLOYS CAN BE ELECTROPLATED.
1.   SOAK CLEAN IN CLEANER MS-114 AT ROOM TEMPERATURE, TIME  ONE
TO THREE MINITES .
2.   RINSE IN COLD RUNNING WATER.
3.   ACTIVATE IN NITRIC ACID (50% SOLUTION) AT ROOM TEMP, FOR  30
TO 90 SECONDS.
4.   RINSE IN COLD WATER .
5.   DIP IN ALZINCATE MD-632 SOLUTION AT ROOM TEMP. FOR 30 TO  60
SECONDS.
6.   RINSE IN COLD RUNNING WATER.
7.   50 % NITRIC ACID DIP FOR 15 TO 30 SECONDS.
8.   COLD WATER RINSE.
9.   DIP IN ALZINCATE MD-632 SOLUTION AT ROOM TEMP. FOR 15 TO  30
SECONDS.
NOTE : IF NECESSARY THE SAME SOLUTION CAN BE USED FOR STAGES  NO.
3 AND 7, ALSO 5 AND 9.
10.  RINSE IN COLD RUNNING WATER (TWICE)
11.  COPPER STRIKE ELECTROPLATING USING 75 GM/LIT OF CYNO  COPPER
SALT-1150.
12.  RINSE IN COLD RUNNING WATER.
13.  FURTHER ELECTROPLATING AS REQUIRED.
OPERATION CONDITION OF MD-632 :
THE SOLUTION OF ALZINCATE MD-632  IS   BEING  SUPPLIED   READY  TO  USE
AND  IT  IS   ONLY   NECESSARY   TO  POUR  THE  LIQUID  IN  TO THE   M.S.  OR
PLASTIC TANK. THE SOLUTION MUST BE KEPT WELL MIXED. THE TANK MUST
BE    FITTED    WITH AIR AGITATION PIPE OR ALTERNATIVELY THE SOLUTION
SHOULD BE STIRRED MANUALLY, DAILY, BEFORE USE.
MAINTENANCE :
THE  SOLUTION  HAS  A  LONG   LIFE, IT  MAY  BE  USED  TO  EXHAUTION  AND
THEN DISCARDED AND A FRESH SOLUTION MADE UP. DRAG OUT LOSSES  CAN
BE   MAINTAINED   BY    ADDING  FRESH   MD-632   TO   THE   WORKING  LEVEL.
GENERALLY  IT  IS   POSSIBLE   TO   TREAT   A   MINIMUM   OF  20 SQ.  FEET  OF
SURFACE   PER   LITRE   OF MD-632 BEFORE IT IS EXHAUSED BUT IN PRACTICE
AREA UPTO 150 SQ. FEET ARE USUALLY ACHIEVED DEPENDING ON THE TYPE
OF ALLUMINIUM PROCESSED.