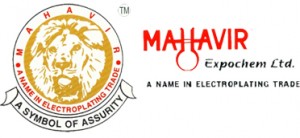 Product Specification
"ROCHELLE COPPER" PLATING PROCESS-1160
ROCHELLE COPPER PLATING PROCESS-1160 IS A CYANIDE COPPER  PLATING PROCESS,  USED FOR PRODUCTION OF HEAVY SMOOTH COPPER DEPOSITS  ON STEEL   AND   ZINC   BASE  ALLOY   DIECASTINGS,   WITHOUT   ANODE POLARISATION,  AND  WITH MINIMUM CHANGE IN CONCENTRATION  OF  THE FREE CYANIDE CONTENT DURING PLATING OPERATION. THE PROCESS CAN BE USED  FOR LIGHT OR HEAVY DEPOSITS IN BARREL AND VAT OPERATION. IT CAN  BE  MORE  SUITABLE WHERE EXCELLENT  THROWING  POWER  OF  THE DEPOSITS ARE REQUIRED.
OPERATING CONDITIONS :
PROCESS                                                  BARREL/LIGHT           HEAVY
ROCHELLE COPPER SALT-1160            150     GM/LITRE       250     GM/LITRE
TEMPERATURE    …   …                             ROOM                       50-70*  C
CATHODE C.D.   …   …                                2       AMP/DM2        4       AMP/DM2
ANODE C.D.     …   …                                   2       AMP/DM2        4       AMP/DM2
DENSITY        …   …                                      10-12*  BE                16-20*  BE
VOLTAGE FOR VAT      …                            3-4     VOLT               3-5     VOLT
VOLTAGE FOR BERREL   …                        6-9     VOLT             6-9     VOLT
COPPER METAL   …   …                              18-20   GM/LITRE         31-33   GM/LITRE
FREE SODIUM CYANIDE  …                        6-8     GM/LITRE           10-12   GM/LITRE
ROCHELLE SALT  …   …                             45-48   GM/LITRE         75-78   GM/LITRE
EQUIPMENTS :
PLAIN  WELDED  STEEL TANKS OR LINED WITH  RUBBER  ARE  USED. M.S. IMMERSION  HEATERS  OR M.S. STEAM PIPES ARE SUITABLE FOR  HEATING THE BATH SOLUTION.
ANODES :
ROLLED OVAL  SHAPED  COPPER  ANODES  WITH  HIGHEST  PURITY   ARE SUITABLE.
SOLUTION MAKE-UP :
FILL  THE  CLEAN  TANK  WITH 2/3 FULL  OF  DEIONISED  WATER.  ADD REQUIRED QUANTITY OF THE SALT-1160 SLOWLY WITH VIGOROUS STIRRING,STIR  FURTHER TO GET IT DISSOLVE COMPLETELY. ADD WATER  TO  FINAL VOLUME  AND  STIR  THE SOLUTION THOROUGHLY. HEAT  IT  TO  WORKING TEMPERATURE AND OPERATE  THE BATH.
BATH MAINTENANCE :
REPLENISHMENT ADDITION OF SODIUM CYANIDE AND/ OR ROCHELLE  COPPER SALT-1160  SHOULD  BE MADE ON VISUAL OBSERVATION OR  BY  ADOPTING ANALYTICAL  MEASURES. 7.5 GM/LITRE OF THE SALT-1160, WHEN  ADDED, IT INCREASES 1.0 GM/LITRE OF COPPER METAL AND  0.35 GM/LITRE   OF FREE  SODIUM CYANIDE. EXTRA ADDITION OF ROCHELLE SALT MAY NOT  BE REQUIRED  IN  NORMAL OPERATION BUT ITS CONTENT WILL  BE  MAINTAIN  BY REGULAR ADDITION OF THE SALT-1160.
WASTE DISPOSAL :
ROCHELLE  COPPER PLATING BATH SOLUTION ARE ALKALINE IN NATURE AND CONTAIN  SODIUM  CYANIDE,AND COPPER METAL. PLEASE NOTE  THAT  ALL WASTE  MATERIALS  MUST  BE DISCARDED  IN  ACCORDANCE  WITH  LOCAL AUTHORITY  REGULATIONS. COLLECT THE SPENT SOLUTION IN A  SUITABLE TANK. REMOVE COPPER COMPLETELY BY PLATING OUT METHOD USING  DUMMY CATHODES.  THEN  DETOXIFICATION OF CYANIDE IS TO BE  FOLLOWED  BY USUAL  METHOD  OF  ADDING  STABLE  BLEACHING  POWDER  OR   SODIUM HYPOCHLORITE SOLUTION OR BY PASSING CHLORINE GAS. TO DESTROY 1
OF  SODIUM CYANIDE NORMALLY 5 KG. OF STABLE BLEACHING  POWDER  OR 5.6  LITRE OF 15 %  HYPOCHLORITE OR 1.65 KG. OF CHLORINE  GAS  IS REQUIRED AT  ABOVE 10 PH.