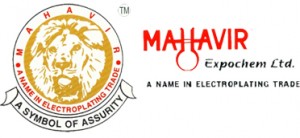 ZINCHROMATE BLACK 164
BLACKENING PROCESS FOR ZINC :
THE  ZINCROMATE  BLACK-164  PROCESS  IS  A  METHOD  OF  BLACKENING  ELECTROPLATED ZINC, ZINCBASE DIE-CASTING  COMPONENTS  AND HOT  DIP    GALVANIZED COMPONENTS. IT PRODUCES AN ADHERENT ALLOYED TYPE  BLACK     COATING  WHICH RESIST TEMPERATURE UPTO 175 C. THE THICKNESS OF THE     ZINC  COATING  SHOULD BE ATLEAST 5 MICRONS. THE COATING IS A  GOOD     FINISH  IN ITSELF AND ALSO SERVES AS A BASE FOR  ORGANIC  FINISHES     SUCH  AS LACQUERS OR ENAMELS. FOR FURTHER-PROTECTION  AND   BETTER     COLORATION  THE  COATING  CAN  BE OILED,  LAQUERED  OR  WAXED.  IT     INVOLVES   CLEANING  OR  RINSING,  IMMERSION  IN  THE   BLACKENING     SOLUTION   AT  ROOM TEMPARATURE FOR 2 TO 6  MINUTES,  RINSING  AND     DRYING.
SOLUTION COMPOSITION AND OPERATION :
ZINCHROMATE BLACK – 164             100 GM/LITRE
TEMPERATURE                                     30-45 C.
DIPPING TIME                                        2-6 MINUTES
BATH PH                                                  4.8.6.7.
AGITATION                                             SLIGHT MECHANICAL MOVEMENT IS
MUST.
SOLUTION PREPARATION:
TO  PREPARE THE SOLUTION THE ZINCROMATE BLACK – 164 SALT SHOULD BE DISSOLVED  IN WARM WATER (40-45C). ADJUST THE VOLUME.  ADD  DILUTE     HYDROCHLORIC ACID (10%) TO ADJUST THE PH VALUE TO 4.8(IF REQUIRED)     DECANT CLEAR SOLUTION IN TO BLACKENING TANK.
EQUIPMENTS :
P.V.C. OR H.D.P.E. MOULDED PLASTIC CONTAINERS OR P.V.C. LINED M.S. TANK CAN BE USED.
 PROCESS SEQUENCE:
(A) ZINC PLATED ARTICLES, AFTER ZINC PLATING –
1.    WATER SWILL.
2.    SWILL IN RUNING WATER.
3.    IMMERSE IN ZINCHROMATE BLACK SOLUTION.
4.    THOROUGHLY SWILL IN RUNNING WATER.
5.    DRY IN WARM AIR OR  IN CENTRIFUGE.
(B) ZINC BASED DIE-CASTING. –
1.    HOT ALKALINE CLEAN.
2.    WATER SWILL.
3.    DILUTE ACID DIP (0.5 % V/V/ SULFURIC ACID) FOR 2-5 SECONDS.
4.    RINSE WITH RUNING WATER.
5.    IMMERSE IN ZINCHROMATE BLACK SOLUTION.
6.    RINSE WITH RUNING WATER.
7.    DRY IN WARM AIR OR IN CENTRIFUGE.
SOLUTION MAINTENANCE :
TO MAINTAIN THE EFFICIENCY OF THE SOLUTION THE PH VALUE SHOULD  BE MAINTAINED  NEAR TO 4.8 USING DILUTE HYDROCHLORIC ACID (10%)  TIME     TO TIME, WHEN THE IMMERSION TIME EXCEEDS 6 MINUTES TO GIVE  PROPER     BLACK COLOUR, AN ADDITION OF 10-20 GM/LITRE OF ZINCHROMATE  BLACK-    164  SHOULD  BE MADE. AFTER SOMETIMES IF FURTHER ADDITION  OF  164     SALT  OR  PH  ADJUSTMENT  TO 4.8 HAVE NO  EFFECT,  PREPARE  A  NEW     SOLUTION.
NOTE : OUR RECOMENDATIONS ARE MADE IN GOOD FAITH AND ARE BASED  ON OUR SKILL AND EXPERIENCE. HOWEVER, SINCE THE CONDITIONS OF USE  OF     THESE  PRODUCTS ARE BEYOND OUR CONTROL, THIS INFORMATION IS  GIVEN     ON  THE  EXPRESS  CONDITION AND AGREEMENT  THAT  MAHAVIR  CHEMICAL     INDUSTRIES  WILL  NOT BE LIABLE TO ANY PERSON BY  REASON  THEREOF.     NOTHING HERE IN SHALL BE DEEMED TO BE A RECOMMENDATION TO USE  ANY     PRODUCT IN VIOLATION OF ANY EXISTING PATENT RIGHT.