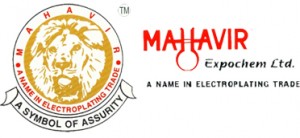 ZINCPAS BL 160
TRIVALENT BLUE CHROMATE PASSIVATE FOR ZINCZINCPAS-BL-160 IS A CLEAR BLUE CHROMATE PASSIVATION PROCESS BASED ON TRIVALENT CHROMIUM AND DESIGNED TO PROVIDE TWO TO THREE  TIMES BETTER   CORROSION   RESISTANCE  AS  COMPARED   TO   CONVENTIONAL HEXAVELENT BASED BLUE CHROMATING PROCESS.
FEATURE BENEFITS  :
CONTAINS NO HEXAVALENT CHROMIUM REDUCES WASTE TREATMENT ANDDISPOSAL COSTS.
CONSISTENTLY PRODUCES MINIMUM REJECTION AND HIGH BLUE-BRIGHT FINISH                     PROFITABILITY
LONGER BATH LIFE AND EXTENDED  INCREASES PRODUCTIVITYDUMP FREQUENCY
PROVIDES HIGHER CORROSION RESISTANCE   EXTENDS THE USEFUL LIFE OF PLATED COMPONENTS
USES EXISTING EQUIPMENT AND PROCESS    NO EXTRA EXPENSES AND EASY CYCLE   TO CHANGE OVER
EQUIPMENT  :
TANK-STEEL TANKS LINED WITH POLY-ETHYLENE,POLYPROPLENE OR PVC ARESUITABLE FOR CONTAINING THE PASSIVATION SOLUTION.
AGITATION-FOR  RACK  PLATING, AGITATION OF THE PART  OR  SOLUTION AGITATION  IS  RECOMMENDED FOR GETTING UNIFORM  RESULTS.  PVC  OR POLYPROPLENE COILS ARE TO BE USED.
SOLUTION MAKE-UP   :
FILL  THE  TANK  WITH 3/4 OF ITS VOLUME WITH WATER  AND  ADD  THE MEASURED QUANTITIES OF ZINCPAS-BL-160 AND STIR THE SOLUTION  WELL ADD MORE WATER TO MAKE UP THE LEVEL MEASURE THE PH AND ADJUST  TO 1.6 TO 2.0 BY ADDING NITRIC ACID.
OPERATING CONDITION  :
ZINCPAS-BL-160         50-80   ML/LIT
NITRIC ACID (42BE.DEG) 1.0-2 ML/LIT.
SOLUTION PH(ELECTROMETRIC) 1.8 – 2.2
SOLUTION TEMPERATURE      ROOM
IMMERSION TIME            20-30 SECONDS
PRE AND POST TREATMENT  :
IT  IS  ADVISABLE  TO RINSE AND  CHROMATE  PASSIVATE  THE  PLATED COMPONENTS IMMEDIATELY AFTER ELECTROPLATING AND WE RECOMMENDED TO HAVE AN ACTIVATION STEP BY USING 2.0-3.0 CC/LIT NITRIC ACID.THE PASSIVATED PARTS MUST BE RINSED USING COUNTER FLOW RINSE  AND SUBSEQUENTLY DRIED USING WARM AIR.
TO  IMPROVE  FURTHER THE CORROSION RESISTANCE  OF  THE  CHROMATED PARTS  THESE  SHOULD BE GIVEN A PROTECTIVE COATING  BY  USING   MAHA GUARD WATER SOLUBLE LACQUER.
MAINTENANCE  :
THE  OPERATING SOLUTION CAN BE MAINTAINED AT ITS BEST  BY  ADDING REGULARADDITIONSOFZINCPAS-BL-16-AND  DILUTE  NITRIC ACID  FOR  PH ADJUSTMENT.  THE ADDITIONS SHOULD BE GENERALLY  BASED  ANALYTICAL CONTROL   UNTIL   A  REGULAR  MAINTENANCE   SCHEDULE   HAS   BEEN ESTABLISHED.
THE  REPLENISHMENT  CAN  BE MADE ON THE  BASIS  OF  SURFACE  AREA PROCESSED AND AS A ROUGH GUIDE ZINCPAS-BL-160 CAN BE MADE AT  THE RATE  OF  10  ML PER LITRE AFTER WORKING  100  SQ.CM.  PER  LITRE (10SQ.FT.PER ITR).
ANALYTICAL CONTROL  :
REAGENTS NEEDED
0.1 N SODIUM THIOSULPHATE SOLUTION
10% POTASSIUM IODIDE SOLUTION
0.5% STARCH INDICATOR
CONCENTRATED SULPHURIC ACID
AMMONIUM PERSULPHATE
APPRATUS REQUIRED  :
50 ML BURETTE                      : ONE
250 ML ERLEMEYER FLASK             : TWO NOS
100 ML GRADUATED CYLENDER          : ONE
25 ML PIPETTE                      : ONE
PROCEDURE  :
1)   PIPETTE 25 ML OF THE SAMPLE TO BE ANALYSED INTO A  250  ML
ERLEMEYER FLASK AND ADD 100 ML DISTILED OR DEIONISED WATER.
2) ADD 3-5 ML CONC.SULPHURIC ACID, 2GMS AMMONIUM PERSULPHATE  AND IF CHLORIDE  IS PRESSENT IN THE SOLUTION ADD 10 ML OF  10%  SILVER NITRATE SOLUTION.
3) BOIL GENTLY FOR 20-30 MINUTS UNTIL THE SOLUTION COLOUR  SHOULD CHANGES TO YELLOW WITHOUT ANY TRACES OF GREEN OR BLUE COLOUR.
4) COOL THE SOLUTION TO ROOM TEMPERATURE AND ADD 20-30 ML OF  10% POTASSIUM IODIDE SOLUTION TO THE FLASK.
5)   TITRATE  WITH 0.1 N SODIUM THIOSULPHATE SOLUTION  TO  A  LIGHT YELLOW  COLOUR  AND  FEW  ML OF  STARCH  INDICATER  AND  CONTINUE TITRATING  WITH THE SOLUTION CHANGES TO LIGHT GREEN COLOUR.CALCULATION  :
ZINCPAS-BL-160  G/LIT = V X N X 25.5WHERE V = ML OF THIOSULPHATE USED FOR TRITRATING.N = NORMALITY OF THE SODIUM THIOSULPHATE SOLUTION