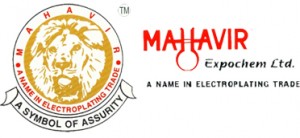 CLEANER ME -112
CLEANER  ME-112  IS  A  HEAVY DUTY ELECTROLYTIC, ALKALINE  CLEANER  WHICH RAPIDLY  REMOVES  SMUT, LIGHT RUST  AND  SOIL  FROM  STEEL. CLEANER  ME-112  IS A FREE FLOWING POWDERED PRODUCT AND  HAS  HIGH DETERGENCY  WITH THE SMUT REMOVAL ABILITY DUE TO THE  PRESENCE  OF CHELATING AGENTS AND CAN BE USED EVEN IN HARD WATER AREAS. CLEANER ME-112  DISPLACES  OILS INSTEAD OF EMULSIYING THEM  WHICH  CAN  BE REMOVED  BY SKIMMING OFF FROM THE SURFACE OF THE CLEANER,  SO  THE SOLUTION  DOES NOT BECOME CONTAMINATED  WITH EMULSIFIED  OILS  AND HAS EXTREMELY LONG LIFE.
CONCENTRATION
CLEANER ME-112           50-100 G/1
OPERATING  CONDITIONS
TEMPERATURE            70-90* C
CURRENT DENSITY    4-10 A/DM2
VOLTAGE                      5-9 VOLTS
TIME           1-5 MINUTES
PREPARATION
FILL  A  M.S.  TANK  WITH  2/3RD FULL  OF  CLEAN  WATER,  ADD  THE CALCULATED AMOUNT OF CLEANER ME-112 AND STIR VIGOROUSLY UNTIL  ALL MATERIAL  I DISSOLVED AND THEN MAKE UP THE  WORKING  LEVEL  WITH WATER.
OPERATION
THE WORK TO BE CLEANED IS MADE ANODIC IN THE CLEANER AT A  CURRENT DENSITY OF 4-10 A/DM2 AT TEMPERATURE 80-90* C.CLEANER  ME-112  CAN ALSO BE USED AS A SOAK CLEANER. THIS  CAN  BE USED  AS CATHODIC CLEANER FOR CLEANING COMBINATIONS OF  STEEL  AND PASSIVE  NICKEL,  SUCH  AS IN THE  REPLATING  OF  USED  AUTOMOBILE BUMPERS.
EQUIPMENT
PLAIN  M.S. TANK IS SUITABLE FOR HOLDING CLEANSE ME-112  SOLUTION. THE  TANK  SHOULD  BE  PROVIDED WITH  HEATING  COILS  OR  ELECTRIC IMMERSION HEATERS. ANODE AND CATHODE BUSBARS. TO KEEP THE  SURFACE OF  THE CLEANER FREE OF OIL A DAM OVERFLOW AND OIL TRAP SHOULD  BE PROVIDED.
MAINTENANCE
THE  CONCENTRATION OF CLEANER ME-112 CAN BE DETERMINED  BY  SIMPLE TITRATION   WITH  STANDARD  ACID  USING  PHENOLPHTHALEIN   AS   AN INDICATOR.